Tools
txt2Pajek 3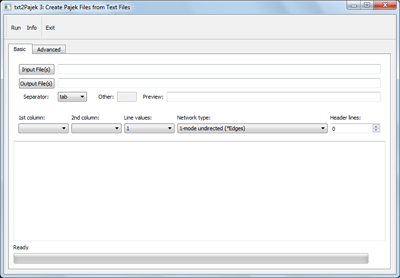 Create Pajek Files from Text Files. New version of txt2Pajek available.
excel2pajek
coming soon.
txt_num2pajek
coming soon.
Data and Visualizations
Poster: The Historic Development of Network Visualization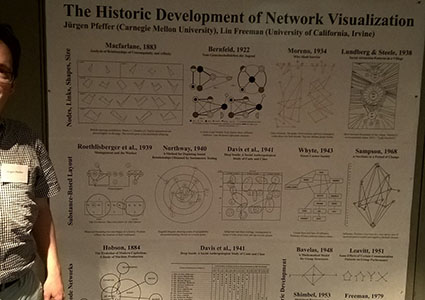 The Sunbelt 2015 poster of Lin Freeman and myself for download. You can also find here images of the individual figures.
Faculty Hiring Network of Top US CS Schools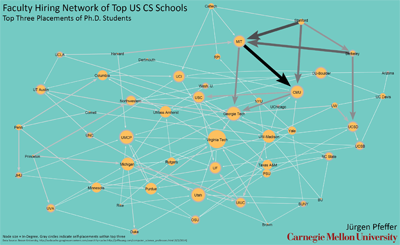 This is great network data of top US Computer Science universities. 2000 faculty and their institutional curriculum vitae. Compiled by Jeff Huang and his students at Brown University.
Sunbelt 2013: Program Data and Visualization

In May 2013 the 33rd Sunbelt Conference was held in Hamburg. 1,050 researchers from 50 countries participated at the XXXIII Sunbelt Conference to watch 656 paper presentations in 127 sessions and 93 posters - overall 749 research products from 1,351 different authors. Here are abstracts, keywords, authors, titles, etc.
Multiplex Networks of Pride and Prejudice

For the second edition of Betina Hollstein's and Florian Straus' book "Qualitative Network Analysis: Concepts, Methods, Applications" (in German: Qualitative Netzwerkanalyse: Konzepte, Methoden, Anwendungen), Karoline Böhler, Betina Hollstein, and I analyzed and visualized ten different types of relations in Jane Austen's "Pride and Prejudice" in order to show how to do a qualitative network analysis of literary texts. The picture of the article can be found here:
SoFid StarLogo Simulation
coming soon.